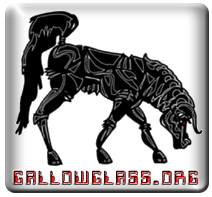 Welcome to the Gallowglass Mailing List service! For a long time, I've wanted to create a service like Yahoo! Groups for SCA and related use that didn't have all those annoying ads. Like most projects, it sat and languished for the longest time. That is, until I started hearing about the changes that Yahoo! Groups was making, especially automatically setting marketing preferences to yes! So, I dived in, and this is the result. Right now, I'm not able to offer all the services I wanted to, but I just threw this together in a couple of days! I hope to develop this further into a much slicker interface, but at least there's now an alternative to Yahoo! Groups that doesn't have ads, and doesn't have marketing preferences!
Allow me to introduce myself. I am known in the SCA as Lord Robin Gallowglass. I currently live in the Canton of Gleann nam Feorag Dhuibhe, which is part of the Barony of Bhakail in the East Kingdom. I have been a herald, chronicler and web minister. I need to make this perfectly clear -- this is not an SCA, Inc. sanctioned project. This is a personal project only, paid for out of my own pocket. If you have a problem, don't call the Corporate office -- email me directly.
To see what lists are available, visit our list!
Because this is a free service, and I'm paying for it out of my own pocket, there are, of course, a few rules:
SCA (and similar groups like MSR) related subjects only please. I will consider (on a case by case basis) lists that would be of general interest to the target audience.
There will not be any automatic creation of mailing lists. I (or a few other trusted souls) will review each and every mailing list request. I will do my best to have lists setup within 2 business days, but there is no guarantee. Once your list is setup, you will receive an email with instructions on how to customize your list via the web.
If you can't take the time to write a paragraph or two about the purpose of the list, then I can't take the time to create the list. Fair enough?
I reserve the right to delete any list that I feel is abusing the service. Things that I would consider abuse include (but are not limited to) using the list to spam, subscribing individuals to your list without permission on confirmation repeatedly, or lists that are primarily used to support illegal activities such as warez, kiddie porn, etc. I have no plans to regulate the content of your list beyond that, and I have no plans on checking out your lists unless it's subject is one that I'm interested in or I receive a complaint.
Ok, you've read the rules, but I can hear some of you grumbling. Well, let me tell you what you'll get from this service:
It's free.
It's run by a scadian.
No ads on your mailing list messages.
No need to sign-up or join anything. Anybody with a valid email address can join or be a list owner/moderator.
While it's not the greatest, there is a web-based archive that can be marked public or private. I'll probably be working on a better web-based archive in the future.
Supports individual message delivery as well as digest.
Messages that appear to be spamish in nature will have a message header added that indicates this, as well as a score. Messages that score too high will be held for list owner/moderator approval. I can't guarantee to keep spam of of your lists, but I can give you some tools that should reduce it, especially if you allow non-subscribers to post.
If you'd like to contribute to the cost of keeping this service running, feel free to donate using the button below. There is no requirement or expectation that you do this, m'kay?
After all that, if you still want to sign-up, you can use the form below.
This site is Copyright © 2002 David L. Weiner. All Rights Reserved